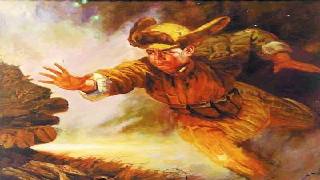 Huang Jiguang was born in a poor farmer's family in 1931 in Zhongjiang County, Sichuan Province. He joined the Chinese People's Volunteers in March 1951.  
During the Battle on Shangganling Mountain of the War to Resist U.S. Aggression and Aid Korea in October 1952, Huang Jiguang's battalion fought fiercely for four days and nights with the US-led Armed Forces for UN and South Korea troops, and was ordered on the night of October 19 to occupy the No. 597.9 Highland west of Shangganling. After seizing three positions, the battalion came across fierce resistance at the No.0 position and three rounds of demolitions all failed. The dawn was approaching. If they couldn't quickly uproot the biggest enemy bunker in the center of the position and successfully occupy the No.0 position, the best time window for winning the battle would be lost.
At this critical moment, Huang Jiguang, who was a messenger in the 6th Company then, volunteered to demolish the enemy bunkers. Huang and two other soldiers proceeded bravely and smartly and wiped out one enemy bunker after another. When they were approaching the enemy's central bunker, unfortunately, one of them was shot, another was seriously injured and Huang Jiguang's left arm was pierced through by the bullet. In the face of frantic barraging, bearing excruciating pain, he moved forward fearlessly and quickly approached the central bunker and threw out several grenades and machine guns in the enemy bunker stopped firing at once.  
But just as CPV troops took the opportunity to launch new offensives, machine guns remaining in the enemy bunker started firing madly again. At that time, Huang had been wounded in multiple places then and had used up all his ammunition. He climbed hard toward the bunker and threw himself at the gun perforation and blocked the enemy's loopholes with his body. Inspired by his heroic move, the CPV soldiers quickly seized the No.0 position and annihilated two enemy battalions.
After the battle, Huang Jiguang was admitted posthumously as member of the Communist Party of China. The Headquarters of the Chinese People's Volunteers posthumously granted him the special merit citation and the title of Super Hero. The Standing Committee of DPRK Supreme People's Assembly also posthumously titled him as Hero of the Democratic People's Republic of Korea and conferred him the Gold-Star Medal and the First-Class Medal of National Flag.