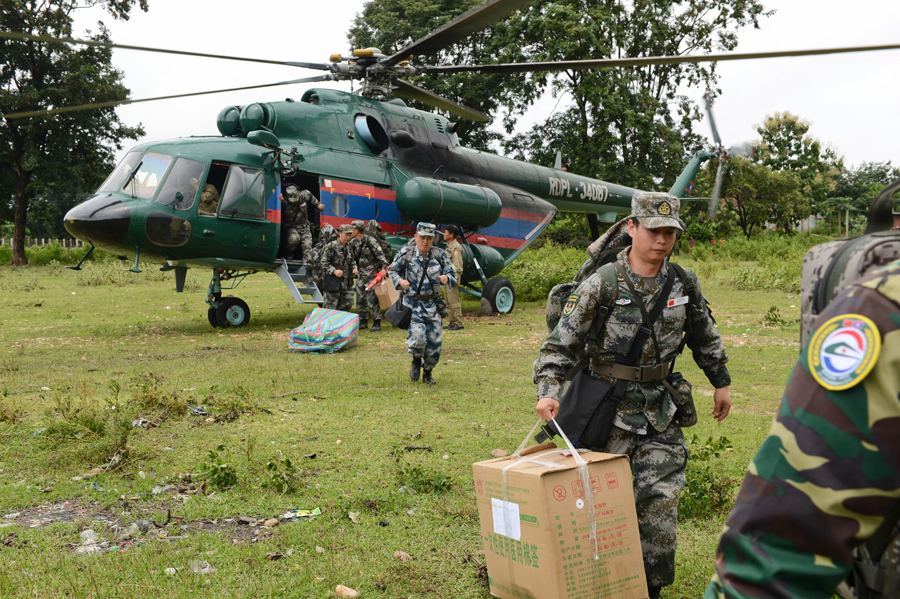 A Chinese People's Liberation Army medical team arrives at the flooded-area in Attapeu, Laos, on Thursday. [Photo/Xinhua]
SANAMXAY, Laos-On the muddy yard of Sanamxay District Hospital in southern Lao province of Attapeu, Chinese doctors in military uniform have set up tents as reception for Lao villagers seeking medical service.
The banner hung on a canopy read "Bring best medical service to Lao people" in both Chinese and Lao letters.
These Chinese are members of a medical contingent from the Chinese People's Liberation Army, or PLA, who were dispatched here for relief operation after a dam collapse triggered flash flood a week ago.
On July 23, a saddle dam of the Xe-Pian Xe-Namnoy hydroelectric power project burst, unleashing 5 billion cubic meters of water from the mountain to 13 villages of Sanamxay district downstream the Xe Pian River.
Six villages were entirely submerged by the muddy flood with 13,000 villagers being affected.
The contingent, which was on the "Peace Train-2018"Humanitarian Medical Rescue Joint Training Mission in the Lao capital of Vientiane, arrived in the flood-hit area on July 25.
It is the first foreign medical rescue team arriving in Sanamxay district after the disaster.
On Sunday, many villagers came to the reception to seek medical service from these Chinese medics, who also checked their heath by using ultrasound and electrocardiography.
"Our contingent has 32 members and some of us work here in the district hospital to treat hospitalized patients and patients sent here from disaster-hit areas," said Chen Zhang, a member of the contingent and also chief of the Department of Respiration of Chengdu Military General Hospital.
"We receive some 100 patients daily. The main problems of villagers from the area are abdominal pain, gastrointestinal diseases, and diseases cause by insect bites and bruises," he said, adding that they also treated villagers rescued from the flood-hit area who had not have any food for one or two days.
Liu Zhenxiong, a doctor from gastroenterology division, Second Hospital of Fourth Military Medical University, was one of the members that went to flooded villages with Lao authorities on Saturday.
"We went to a village called Ban Boc, and there were a lot of villagers there and we treated some 100 villagers in a single day," Liu said.
'Thumbs-up'
Ban Boc, formally called Don-Boc (Donbok) village, now is also a temporary shelter for displaced villagers as it lies on relatively high land.
Khamlieng Outhakaisone, deputy director general of the General Staff Department of the Lao People's Army and commander of the rescue operation, told a news conference on Saturday night that the Donbok village sheltered some 1,086 affected villagers.
Liu said they found two children with high fever there so they transferred them to the district hospital where they were in better conditions.
"Villagers told us we are the first foreign medical team there in Ban Boc and they gave us a thumbs-up," he said.
After a disaster like this, there would be cases of enteric infections, insect-borne diseases and food poisoning. The work to prevent any outbreak of diseases among victims should begin as soon as possible, or no later than 72 hours after the disaster, said Guo Jinpeng, head of the emergency response team of the disease control and prevention contingent.
They also guided villagers and locals on how to dispose of domestic waste and make sure they drink clean water and wash their hands before having food.
The latest report said 9 people had been confirmed dead while 122 were still missing after the disaster.