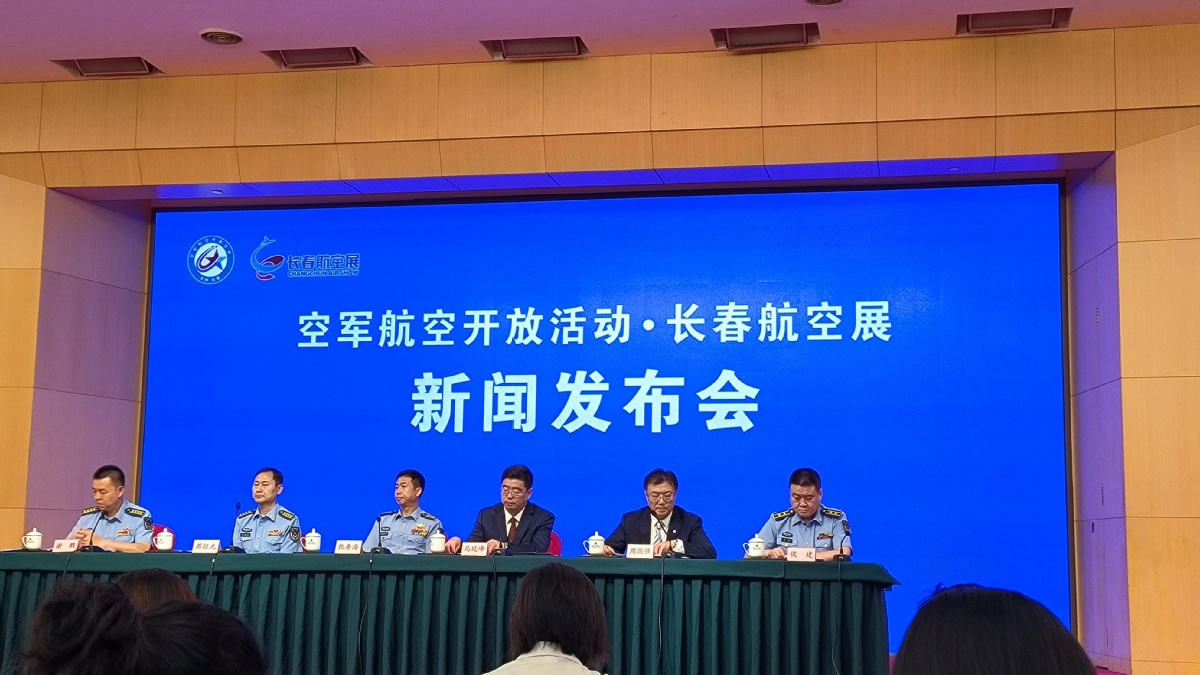 A news conference on the Changchun Air Show is held in Beijing on July 21, 2023. [Photo/chinadaily.com.cn]
The People's Liberation Army Air Force will send its best aircraft to perform at an air show in Changchun, capital of Jilin province, according to officers.
Senior Colonel Zhang Shouhai from the Air Force's Staff Department said at a news conference on Friday morning in Beijing that the J-20 stealth fighter jet, YY-20 aerial refueling aircraft, and J-16 multirole combat plane will take part in the air show, which will be held at the Aviation University of Air Force in Changchun from July 26 to 30.
Multiple J-20s and YY-20s will form a group in flight display while the J-10S and J-11S twin-seat fighter jets will carry out aerial combat performance, Zhang said.
Meanwhile, aerobatic teams of the Air Force will also conduct stunt performance during the event, he added.
Lieutenant Colonel Hou Jian, an officer at the Air Force's Equipment Department, said at the conference that a total of 45 aircraft in 13 types will be sent to Changchun to carry out flight performance.
He said a host of latest hardware including the WZ-10 reconnaissance drone, Z-20KA utility helicopter and KJ-500A early-warning plane will be shown to the public.
A total of 137 sets of ground-based equipment like air defense radars, missiles and artillery guns will also take part in the air show, he said, adding that a lot of the Air Force's time-honored planes and weapons will be present at the event.
The event will be the first massive air show in China this year. Around 700,000 visitors are expected, according to Ma Yanfeng, executive vice-mayor of Changchun.