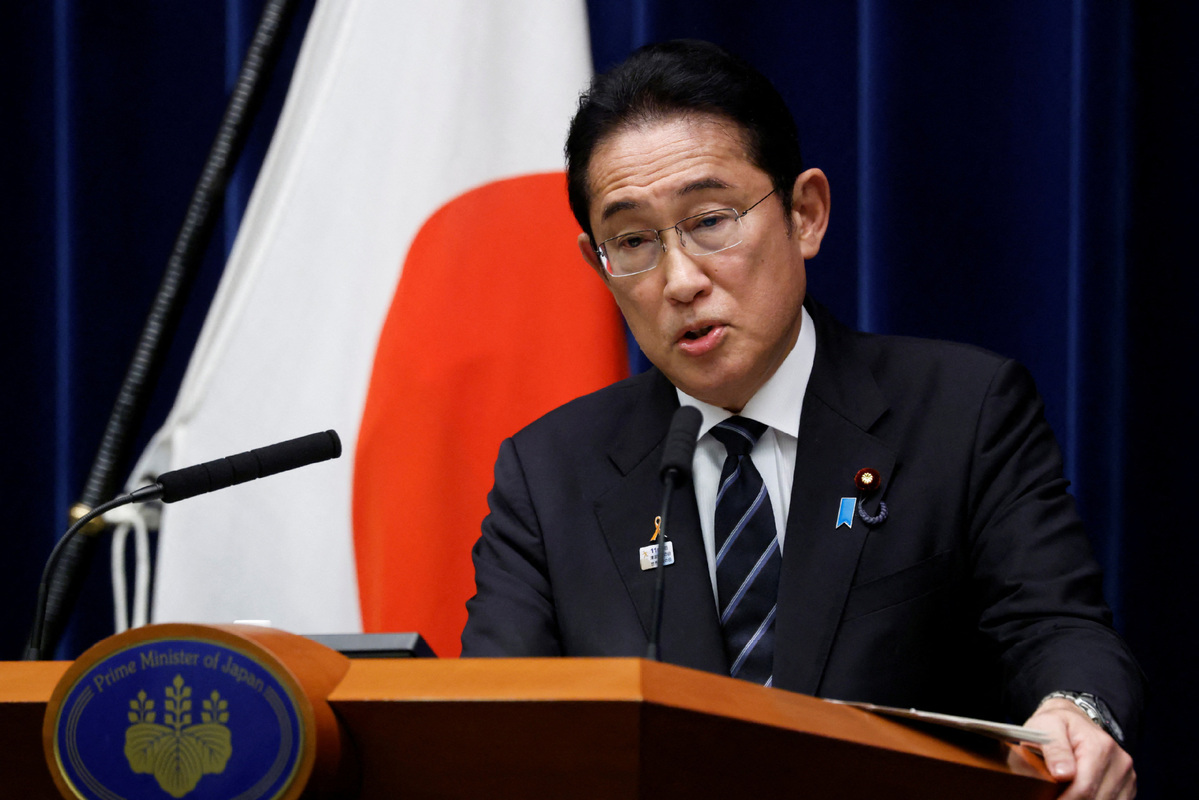 Fumio Kishida, Japan's prime minister, speaks during a news conference at the prime minister's official residence in Tokyo, Japan, Nov 2, 2023. [Photo/Agencies]
At a recent air parade held at the Iruma Air Base in Sayama of Japan's Saitama Prefecture, Japanese Prime Minister Fumio Kishida said the Japan Air Self-Defense Force will be renamed Japan Aerospace Self-Defense Force before 2027.
The National Defense Strategy the Japanese government formulated at the end of 2022 had suggested the name change to show Japan's intention of strengthening its security response in space.
Japan has been strengthening its military force in aerospace in recent years. It established a space operation unit at an air base in Tokyo in May 2020 to oversee the operation of Japanese satellites. In the latest fiscal year, the Japan Air Self-Defense Force has also set up a new unit to monitor satellite radio interference at an air base in Yamaguchi Prefecture.
If the name is changed, it will be the first time at the level of air force since the establishment of the Japan Self-Defense Force in 1954. Observers say the Japanese government and Japan Self-Defense Force believe that with the military strength and technologies of "neighboring countries "continuously improving, Japan's military advantage is shrinking.
The complex domestic challenges, such as an aging society, shrinking population, a low fertility rate and a grim fiscal situation, have heightened Japan's security concerns.
After Shinzo Abe became prime minister for the second time in 2012, Japan created the National Security Agency and published its first National Security Strategy in 2013. The introduction of the three security documents in December 2022 marked Japan making greater efforts to strengthen its military power. The Kishida Cabinet's raising of defense spending from just over 1 percent of GDP to 2 percent will also provide enough fiscal space for its military moves.
The planned name change does not explicitly state the targets it aims to deal with, but Japan's national security strategy unveiled in December 2022 lists China, the Democratic People's Republic of Korea and Russia as priority challenges. However, observers point out that Japan has many shortcomings and even gaps in military technology and equipment, and its economic strength also does not support large-scale, continuous military inputs.
Japan pursues a greater military presence, but what it plans to strengthen in space is not what is most needed for self-defense. Rather, they are more like serving the military strategy of the United States in the Asia-Pacific region.