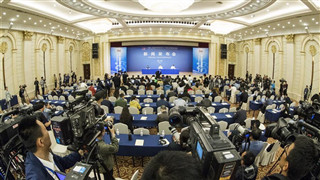 A press conference for the multinational naval events to mark the 70th founding anniversary of the Chinese People's Liberation Army (PLA) Navy is held in Qingdao, east China's Shandong Province, on April 20, 2019. (Xinhua/Ju Zhenhua)
QINGDAO, April 20 (Xinhua) -- Over 10 countries, including Russia, Thailand, Vietnam and India, will send nearly 20 vessels to join a naval parade commemorating the 70th anniversary of the founding of the Chinese People's Liberation Army (PLA) Navy, senior navy officer Qiu Yanpeng told a press conference Saturday.
More than 60 countries will send delegations to join multinational naval events marking the anniversary, and over 30 countries of them will send major navy leaders to participate, according to Qiu, deputy commander of the PLA Navy.
Nearly 20 foreign vessels of various capabilities, including destroyers, frigates and landing ships, will join Chinese vessels in the naval parade, showing to the world the "firm determination to safeguard peace and seek development with joint efforts," Qiu said.
Organizing multinational naval parades is a unique ceremonial activity of navies, according to Qiu.
Multinational commemorative events, to be held in Qingdao and nearby sea areas and airspace from April 22 to 25, will feature various activities including high-level seminars and cultural and sports exchanges.
Organizing multinational events is an established international practice and a unique way of naval exchanges, Qiu said.
The events are expected to set up a platform for navies of different countries to strengthen communication and understanding, and create opportunities for navy leaders of different countries to discuss maritime security cooperation, according to Qiu.
April 23 marks the 70th founding anniversary of the PLA Navy.